Weight Loss Resourses on this website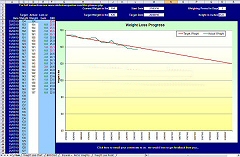 Our Diet Chart Planner is easy to use and will help you chart your weight loss on ANY diet or weight loss plan.
Our video shows how easy it is...
Built in BMI Calculator automatically plots your reducing Body Mass Index on a separate graph too!
It's a great motivational tool!
---
Find out whether you ARE fat, thin or normal with our free BMI calculator (Body Mass Index).
---
Discover the secrets of Celebrities - follow their guides to looking good and feeling great.
Dr Atkins Diet revolution, the low carbohydrate high protein diet that really works. The story, the facts, answers to those questions and what makes this the most effective diet of all time!
The GI or glycaemic index diet shows you how to lose weight naturally by eating low glycaemic index food.
Paul McKenna has developed a breakthrough weight-loss system that re-patterns your thoughts, attitudes and beliefs about yourself, your health and food to help you easily get control of your diet and lose weight permanently. As you use Paul?s system, psychological techniques will automatically help you start losing weight straight away! You can use it again and again to make you feel happier about yourself as you go all the way to your ideal shape, size and weight.
Detox with Carol Vordermans detox diet video or book which show you how to detox your body and get fit and healthy.
The new South Beach Diet - eating plans, recipes, health benefits, devised by a leading nutritionist, no counting calories, no fighting with exercises - a well-balanced diet that includes plenty of fruit, vegetables and whole grains, plus nuts and healthy oils.
There is a huge range of fat binding, appetite supressing diet pills available.
---